Spacious 2 Bedroom Townhome with beautiful mountain views
Welcome to 6542-7 Twin Circle, Simi Valley
Nestled in the rocky foothills of Simi Valley, this spacious 2 Bedroom Townhome offers park-like grounds, a quiet neighborhood, and a perfect place for you to call home. With a 2 car garage and laundry area, this home is move-in-ready and perfect for a first-time homebuyer or homebuyer looking to down-size.
Priced at $389,950
Spacious Living
As you enter you are greeted with fresh paint, recessed lighting, a warm fireplace, and an open floor plan. This spacious living space is open to the kitchen, dining area, and patio area allowing for easy access from one space to another. Tile flooring and warm gray tones provide a neutral backdrop just waiting for you to put your final touches.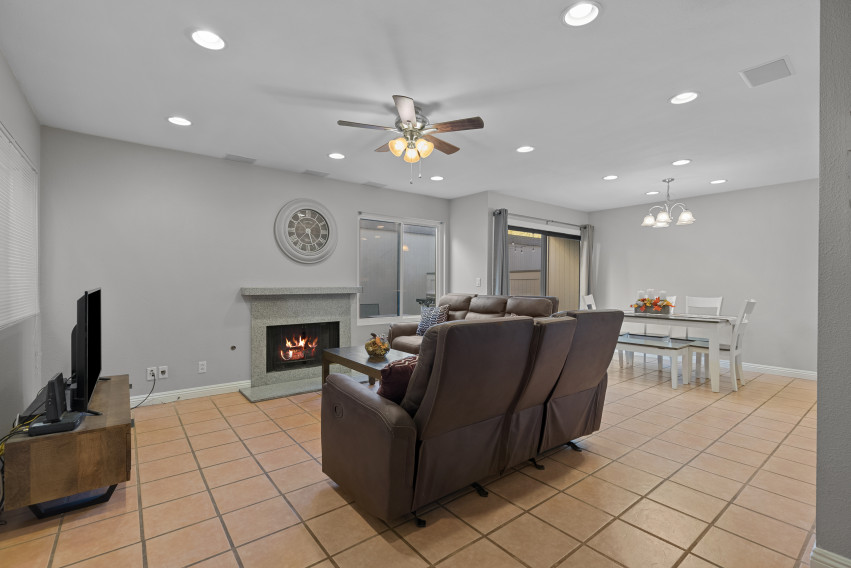 Beautiful Kitchen
Rich dark cabinets and sparkling granite countertops provide an elegant kitchen space that is functional and appealing. Bright tile backsplash and stainless steel appliances add touches of beauty to this ready to use kitchen. Whip up your family favorites and enjoy the large counter space and good-size kitchen pantry rarely found in townhomes.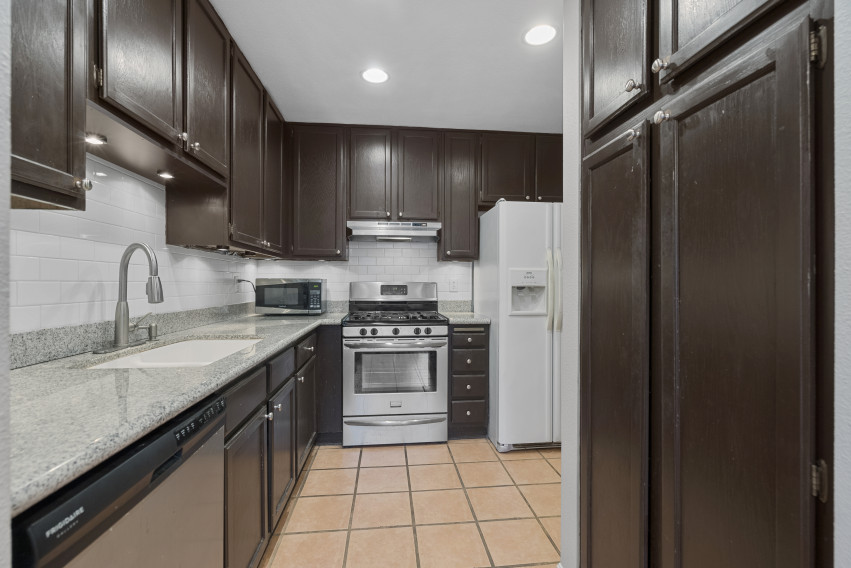 Dining Area
The open dining area allows for natural light and easy access to the kitchen making entertaining a breeze. Open the slider for Al Dente dining or host more guests by utilizing the patio space for additional seating.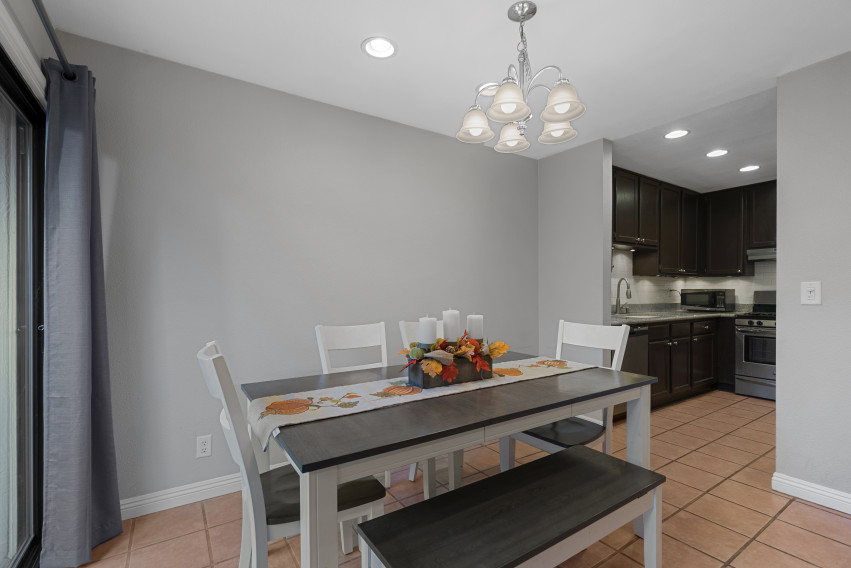 Guest Bath
The guest bath is located downstairs with granite countertops and a vanity with storage.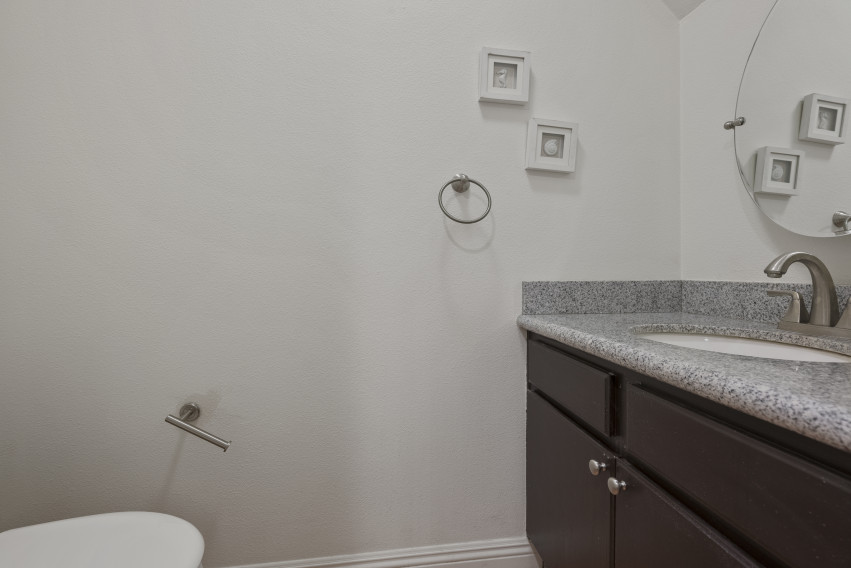 Laundry Area
Space for both a full-size washer and dryer, this laundry space is not common in most townhomes. With storage and convenience, this space is sure to make your laundry duties easier.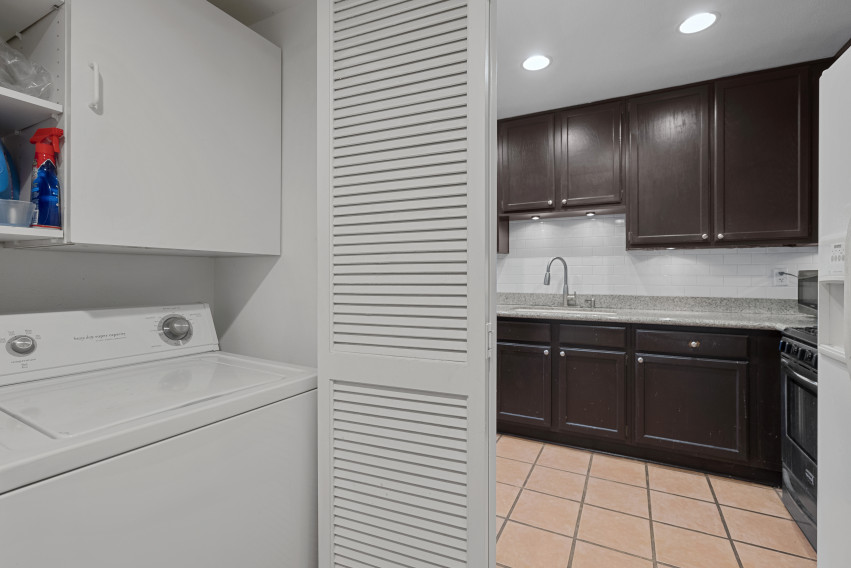 Upstairs Landing
Not only is this townhome spacious, it also provides lots of storage. As you enter the upstairs landing you are greeted with large storage for all your family needs.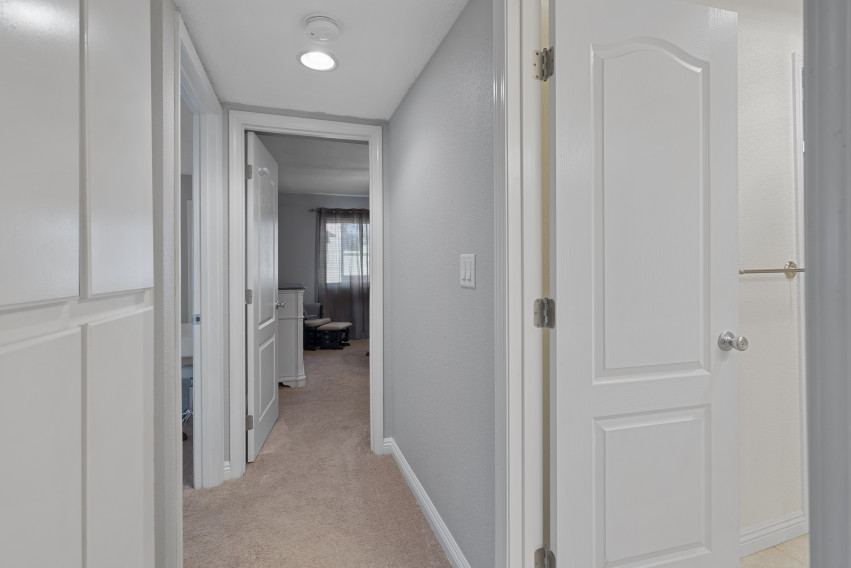 Master Bedroom
The sleeping quarters are located on the second level with a large master bedroom with a private entrance to a shared bath. This room offers plenty of natural light, and a perfect place to escape after a long day to relax and unwind.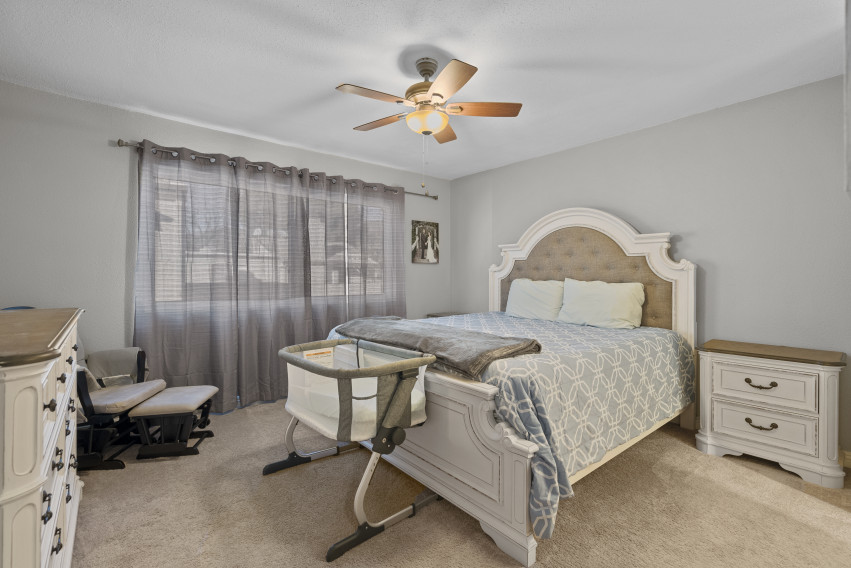 Second Bedroom
The second Bedroom offers storage, natural light, a ceiling fan, and fresh paint.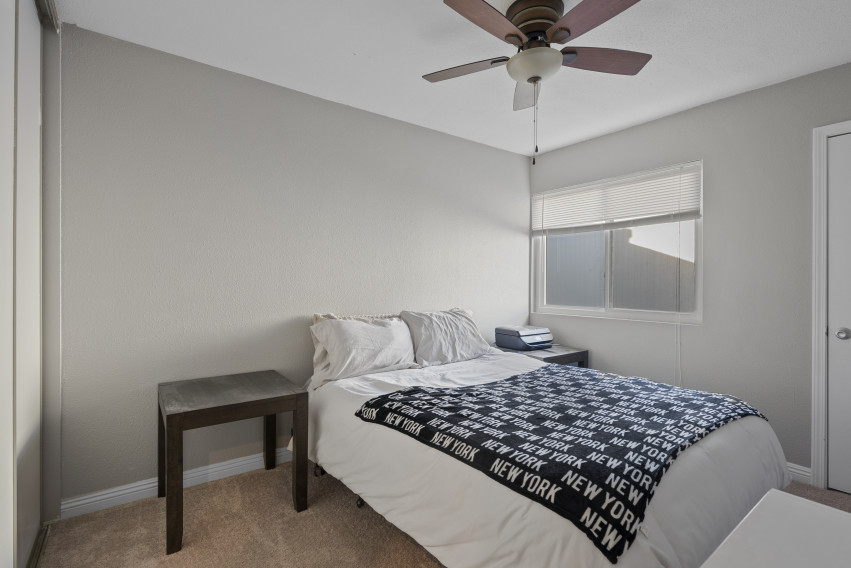 Upstairs Bath
The upstairs bathroom provides two entrances from the hallway and master bedroom. Stunning granite countertops with two separate vanities provide privacy and a ton of storage.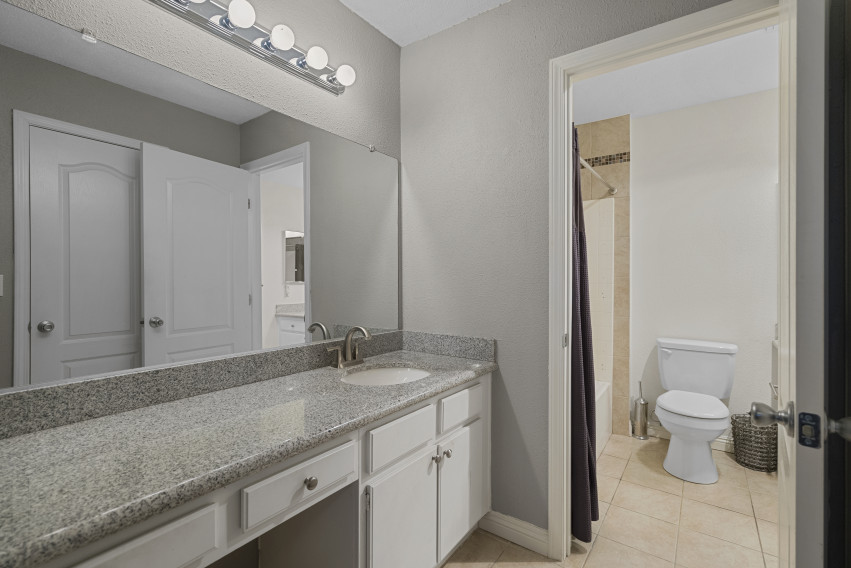 Patio
Enjoy the sunny California weather as you BBQ your favorite courses on your oversized patio. This tiled area is perfect for entertaining, escaping after a long day, or a perfect space for a small dog or play area.
2 Car Garage
With direct access to your patio area, this 2 car garage provides storage and makes transporting groceries and other items a breeze.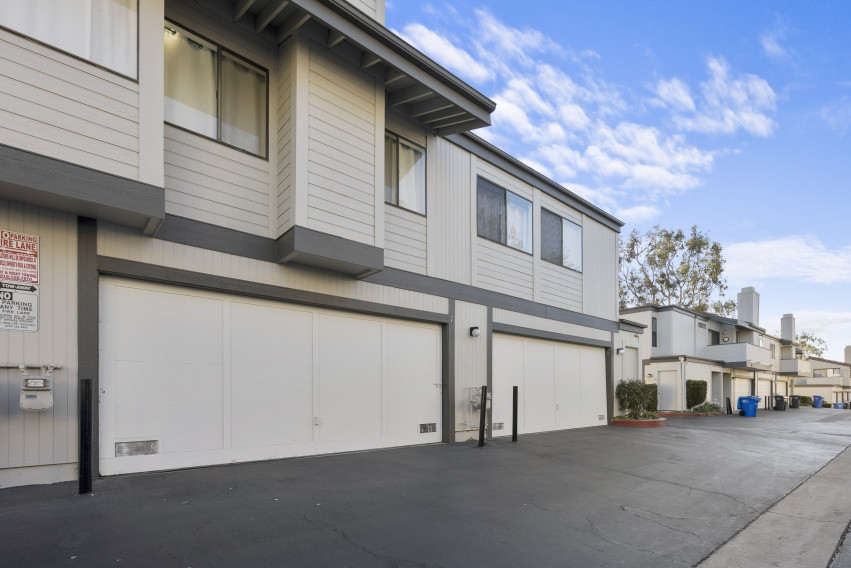 Pool & Tennis Court
Enjoy all the perks Sandalwood Village has to offer with two separate pools and spas, tennis court, and plenty of green pathways to enjoy all the beauty that surrounds this wonderful community. With an HOA of $370 a month, you will sure be able to utilize all that Sandalwood Village has to offer.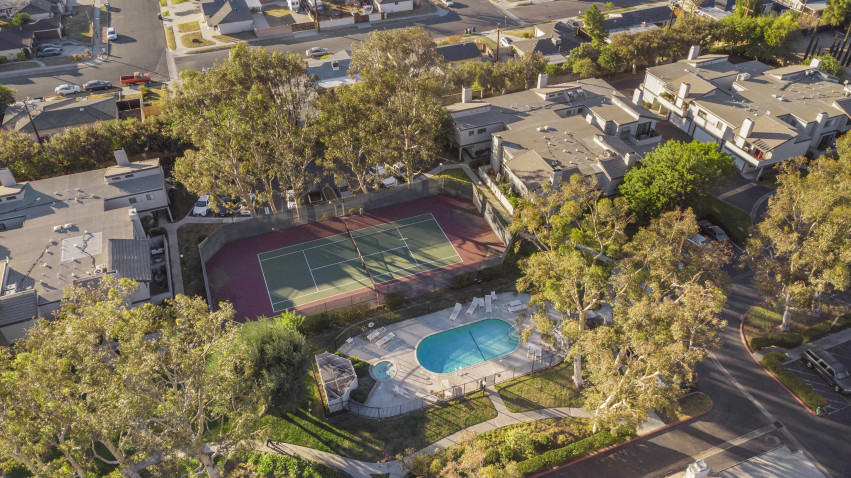 What our clients have to say
I couldnt be more happy with the results.
My wife and I were extremely picky about the house we were looking for. We wanted the perfect floor plan at the perfect price, which was generally less than the going rate. Eddy was extremely patient and helpful throughout the whole process (which was nearly a year), and never rushed us a single time. My parents have always gone through multiple realtors when looking for a new home, and I believe this would have been the case had God not blessed us with Eddy at the very beginning of our search.
I cant thank Eddy enough
Eddy walked us through the whole process and stood by our sides. He went to "bat" for us multiple times and for the most part (no fault of Eddy's) everything went smoothly and we closed on time. Eddy and I have been friends since we were kids but he still was just as professional, is such a hard worker, is very comical, and knows his "stuff"! His whole team is pretty awesome!! :-) I can't thank Eddy enough for finding this house and helping to make this happen! My family and I love and thank you! ~The Sadowsky's~
I would definitely use Eddy
Eddy helped me with the purchase of our first home. he was very helpful with helping find the perfect condo for us, and he made sure that we got the best deal possible. Eddy also helped me with the loan process to make sure that the loan I had was the best suited for me. he not only was there to help me with the whole process of buying the home, he still helps with any questions I have. I would definitely use Eddy with any home buying needs you may have. I would also refer all of y friends and family to use Eddy as a realtor.